Posted by Dr Chlorine on Oct 10th 2021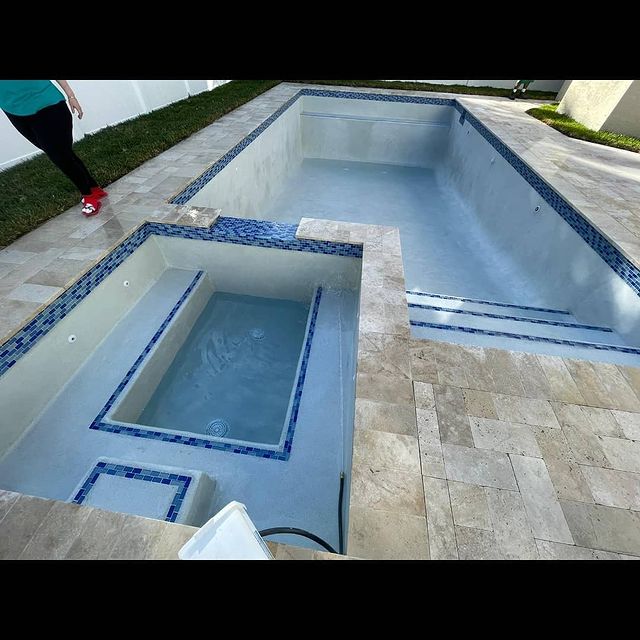 For concrete in-ground pools, there is pool plaster. Pool plaster is applied as the final coating for most pools. It is commonly white in color and its functions include adding a watertight seal and creating a smooth surface on the pool floor. Aesthetically, pool plaster gives the swimming pool its finished look; making it an essential step for any pool build.
Combines durable quartz aggregate with white cement to create an accented, non-fading surface. The result is a unique finish that can withstand the effects of extreme weather, harsh chemicals, as well as years of family fun. Diamond Brite gives you a choice of 17 exotic, factory-blended finish colors so it's easy to coordinate with your color schemes. Pigments are non-fading, wear-resistant, and uniformly mixed. Plaster life is 9-12 years.
QuartzScapes
Creates a brilliant and enduring appearance for your pool and spa. A premium blend of crushed quartz, white cement and color tints, QuartzScapes merges beauty and strength for an incomparable finish that will last. One of the world's strongest minerals, quartz crystals are bonded with a ceramic color coating for reliable beauty – a beauty that will last for years without fading or abrasion. Choose from 16 brilliant colors. Plaster life is 9-15 years.
PebbleTech
Combines brand pool finishes deliver natural elegance and long-lasting beauty. This original pebble finish is made up of naturally polished pebbles creating a slightly bumpy texture with a non-slip surface. Its unique characteristics allow a pool to blend with landscaping and water features creating the most natural environment imaginable. Available in 18 attractive colors, original Pebble Tec pool interior is the perfect choice for individuals desiring a more natural look for their pools, spas or water features.
The importance of balanced water chemistry cannot be overstated in its role in the plaster longevity and maintaining the appearance of quality pool and spa surface products.
Your swimming pool gets exposed to a lot of water, chlorine, and general wear and tear over the years. At its basic, a swimming pool is a hole in the ground with water fixtures and a pool finish. The swimming pool finish prevents water from seeping into the ground through the concrete shell because concrete is porous.
You have several options when choosing the right finish for your pool.
You can group pool finishes into several broad types:
plaster
pebble
aggregate
quartz
tile finishes